The little things can get you when you are in college. You arrive on campus fresh and ready to go but before you know it, you are a few weeks into the new semester and you have a long list of small things you forgot to pack and need to buy ASAP. From experience, we know that there are unassuming gadgets that can make your college life easier. To help you get ahead of the game, we have compiled the best items under $50, so you can get the most crucial ones off your list before you even set foot on campus.
Anker PowerExtend Cube USB-C Power Strip
Basic two-receptacle wall outlets just do not cut it anymore now that we all have a small army of devices that we rely on every day. A power strip like Anker's PowerExtend will become necessary for students as it gives them more power options than what comes standard in their dorm rooms. This cube has two USB-A ports, one 30W USB-C socket and three AC outlets, giving you more ways to keep your laptop, phone, tablet, headphones and other devices charged up. The five-foot cable is another perk as it prevents you from needing to hug the library wall to get things done. Also, it weighs just 9.2 ounces, so you can bring it with you whenever you need your own personal charging station.
Incase Bionic Accessories Organizer
Staying organized is key to staying sane while in school, which is true for your digital and physical essentials. For the latter, Incase's Bionic Accessory Organizer is just the right size to act as both a pencil case and an "everything else" holder. It has many pen loops inside for those that prefer to take handwritten notes. Still, it also has a bunch of variously sized pockets that can easily hold things like your portable hard drive, an extra phone charger and even a compact wireless mouse. Moreover, unlike those cheap pencil cases you will find at the dollar store, this one is made of ocean-recycled material equivalent to seven plastic bottles.
Lention 7-in-1 USB-C Hub
Your brand new laptop might be blazing fast and super lightweight but it probably does not have as many ports as you would like. Such is a trade-off companies make when creating powerful thin and light machines. However, it does not have to be so painful if you get the right adapter for your laptop. Lention's 4-in-1 USB-C hub is an excellent option for students. It is compact, measuring 3 X 1.4 inches and it includes three USB-A ports and one USB-C connection. That should let you connect accessories like mice and keyboards and even access files on a thumb drive when working on a group project. The USB-C port is for charging only but that is not necessarily a downside – you can use it with your laptop's power adapter and the USB-C cable to power your machine while using the adapter at the same time.
Anker PowerLine II USB-C to Lightning Cable (10-Foot)
When you are a student, there is nothing worse than realizing your iPhone is down to 2% battery when you are in the middle of submitting an assignment online. The charging cable that came with your phone has probably served you well but having a second, longer cable can power up in dire situations even when the closest outlet is across the room. This 10-foot USB-C to Lightning cable is worth investing in. Not only is it MFi-certified, so it will work well with all Apple devices but its length gives you much more flexibility than your standard three-foot cable does. It also supports fast charging if you have an appropriately powerful adapter to use it with.
SanDisk Dual Drive Go
While you may be used to saving your assignments in the cloud, it cannot hurt to have local copies as backups. SanDisk's Dual Drive Go is a tiny thumb drive with USB-C and USB-A connectors, so you can download and save essential programs, files, photos and other documents from almost any device. It works with laptops, tablets and smartphones and it even has a companion app that can automatically backup your files, so you always have the most up-to-date version on hand. We appreciate the dual USB connectivity, the device's tiny size and its affordable price.
RAVPower 20,000mAh Charger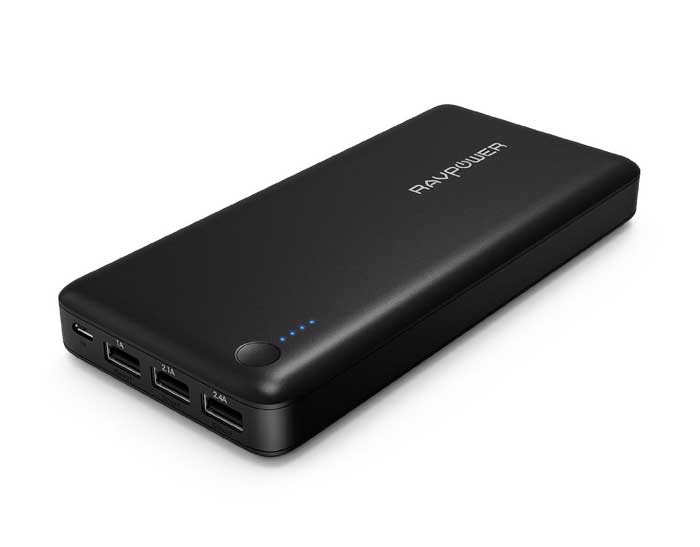 A portable way to recharge your phone is essential nowadays. Even better is a battery pack that is capable of charging all your devices, including your laptop. RAVPower's 20,000 mAh portable charger does just this – its 60W output allows it to juice up machines like a MacBook Pro from 0 to 60% in just one hour. And if you have got your laptop covered, it can power your tablet, smartphone, headphones and other gadgets quickly as well.
Let us know in the comment section what gadgets you are planning to grab before heading to campus this fall.